McKiney Manufacturing is proud to offer CNC waterjet cutting in Nebraska and the Front Range region. Waterjet cutting is a more efficient method when compared to other forms of cutting. It can save you money, time, and material cost. There are many waterjet cutting benefits that make it the best way to cut steel and other materials. The benefits allow us to offer high-quality services while also keeping the cost to our customers low.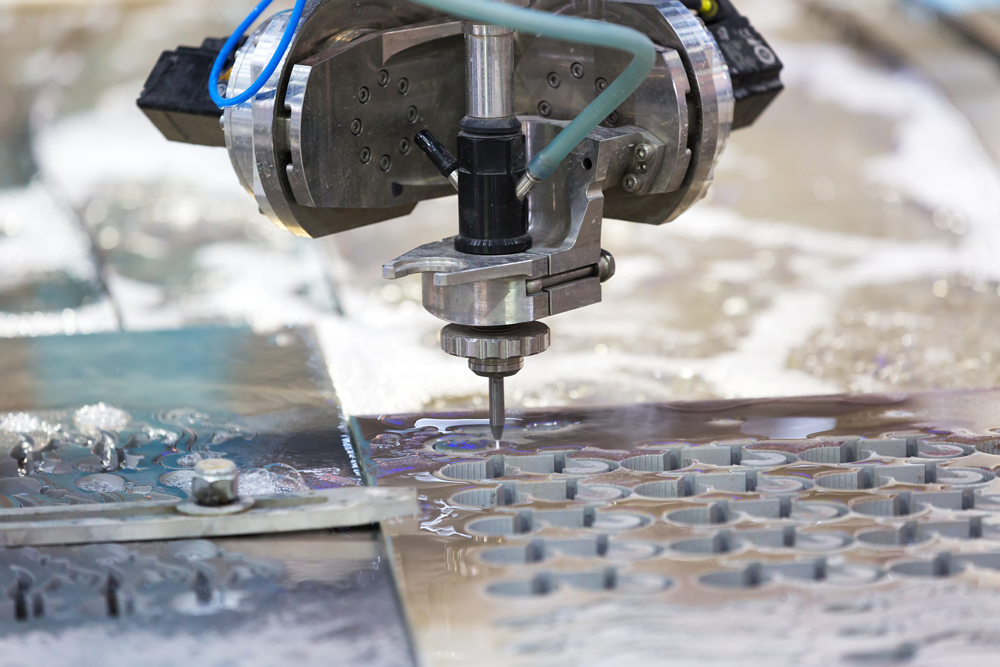 Time Savings
A waterjet is one of the fastest CNC machines, as it can cut up to 2700 IPM.
Using CNC technology, waterjet machines make a precise cut the first time, and every time. Using a high-pressure water stream (around 50,000 psi) waterjets can cut complex shapes with a narrow kerf. Because heat is not involved, secondary finishing is unnecessary, allowing for a quick turnaround time.
This enables us to get the finished product to you on-time and on-budget.
Stacking Materials
Another way to save time is by stacking material. Waterjets can cut material stacked up to several inches. Since no heat is involved, the material sheets will not melt together; instead, a perfectly clean cut is possible.
Since material stacking is an option with waterjet cutting, the whole cutting process can be done more quickly — saving time, and money.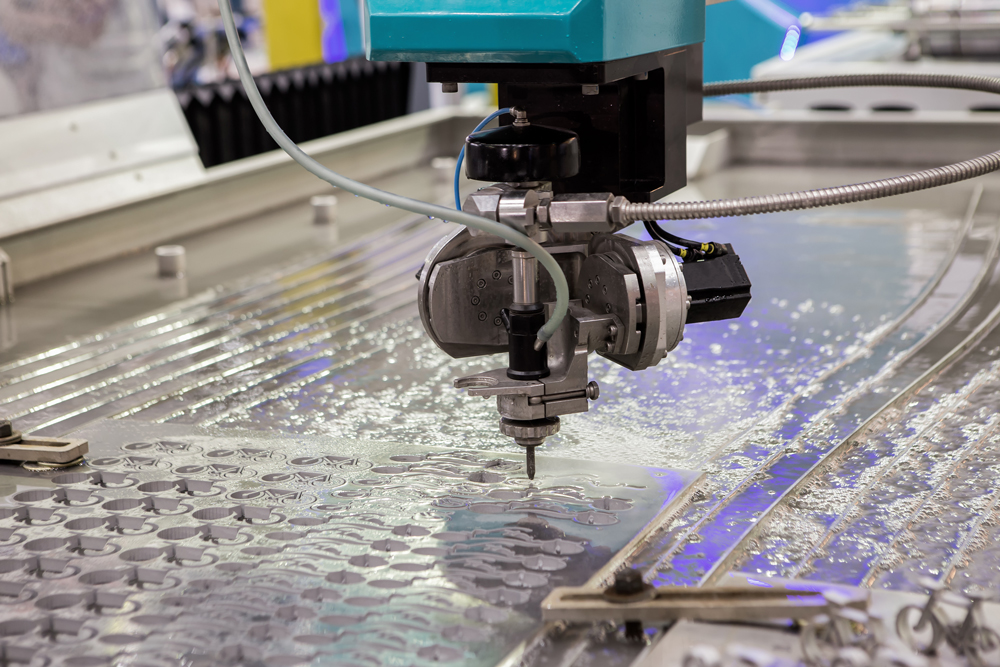 Material Savings
The narrow kerf saves material, which also means cost saved. Saving material means saving cost and being more environmentally-friendly.
What is material nesting? 
Material nesting is another way to save material when using a waterjet machine. Nesting refers to fitting the maximum amount of parts/components into one material sheet as physically possible in order to reduce any wasted material. There are two main methods of nesting.
Array Nesting
Array nesting is when you have one die or one shape to cut multiple times. It's the simplest type of material nesting. This also does not require the use of nesting software. Rather, it can be done by simply cutting and pasting the shape with the required space in between.
Automated Nesting
Automated nesting is when you have multiple shapes to cut. Using nesting software, the diverse shapes can be arranged in a way that maximizes the material.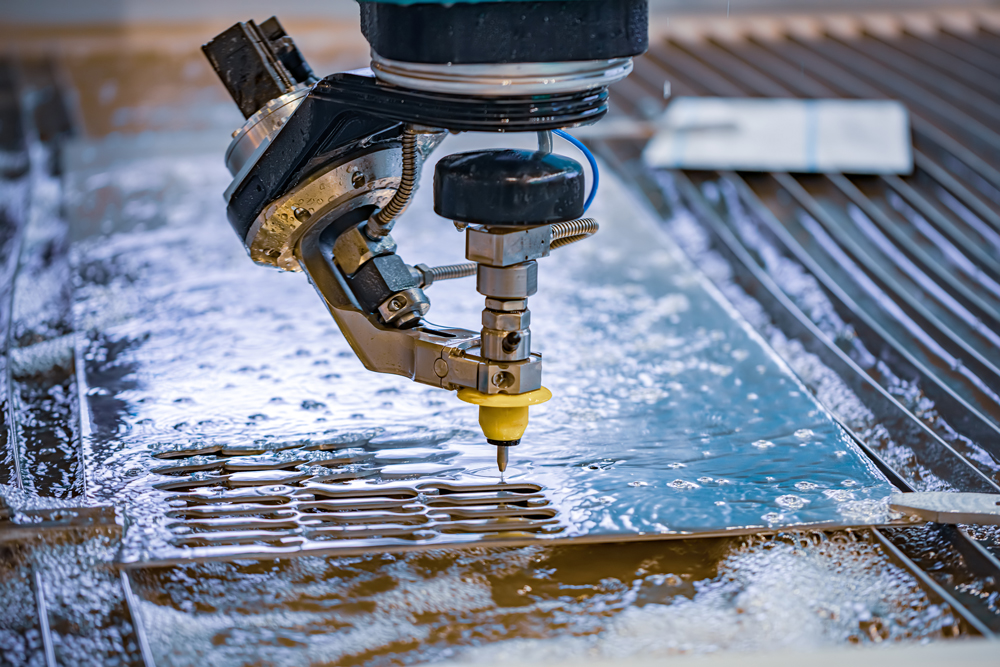 Maximizing Production
No matter your industry, partnering with McKiney Manufacturing will help you save time, energy, and money. Our waterjet machine allows us to save materials and time, which reduces your overall cost and allows you to maximize production.
Engineering / Part Design Teams can benefit from a McKiney partnership as we can help produce small, intricate, and complicated parts with our immensely precise waterjet machine. Using nesting techniques, we can produce parts and keep waste to a minimum.
"McKiney Manufacturing has been the go to manufacturing company our Engineering team depends on to get the job done. In recent years, no job has been too large or even too small. Every product we receive from them has been carefully tested to meet all the specifications we expected while designing the product and more. Along with their attention to detail and quick turnaround on project they also bring to the table excellent customer service. Without McKiney Manufacturing's expertise our company would not be as successful as it was today. Keep up the great work." — Andrew, Design Team Lead
Sign Makers can also benefit from taking advantage of the benefits of waterjet cutting with McKiney Manufacturing. Waterjet cutting is a single solution that will work for aluminum, stainless steel, plastic, acrylic, and more. With a waterjet machine, there is no heat distortion or secondary finishing required, which saves time. Waterjet machines can perform intricate cuts and engraving as it's more accurate than other methods. As an alternative to laser cutting, waterjet machines have more pros than cons.
Why waterjet cutting for signs is better than laser cutting:
No heat involved

No finishing required

Can cut nearly any material

Can cut much thicker material (up to 24 inches vs 1 inch with a laser)

Same accuracy

Easier setup
Interested in learning more about cutting steel with a waterjet machine?
Foam Cutting for packaging, cushions, cases, accessories, etc. can also be done efficiently using CNC waterjet technology in lower-volume runs. Waterjet machines can more precisely cut foam compared to blades.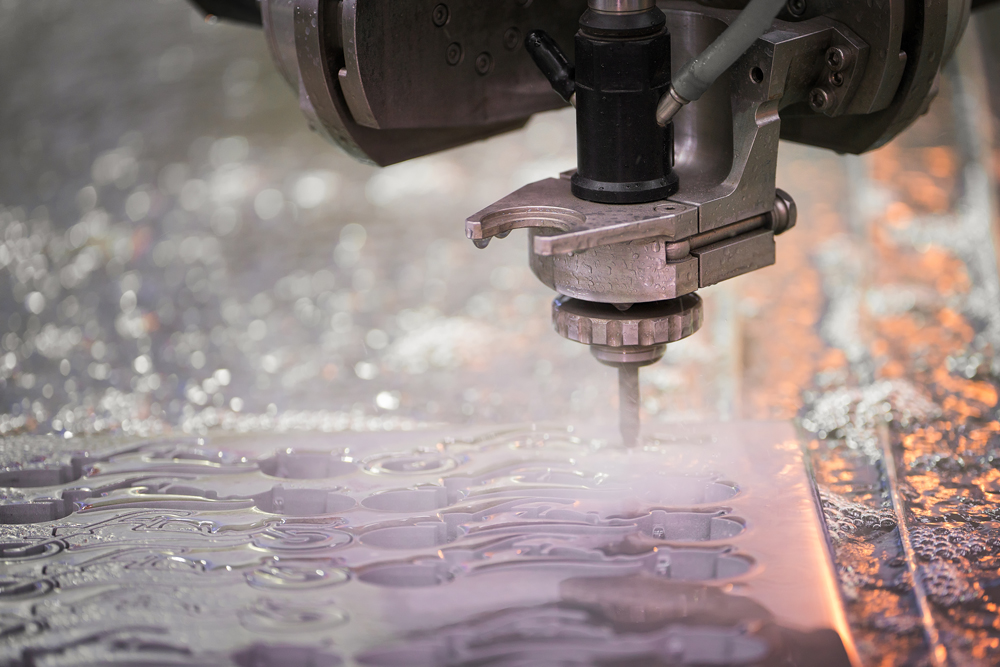 McKiney Manufacturing is your best resource for waterjet cut parts, waterjet cut signage, waterjet cut foam, and more. Our CNC waterjet machine offers cost and time-saving benefits when compared to other methods. The Mckiney team is ready to help you complete your project on time and on budget. Our Nebraska-based waterjet shop is equipped with state-of-the-art machining and fabrication equipment.